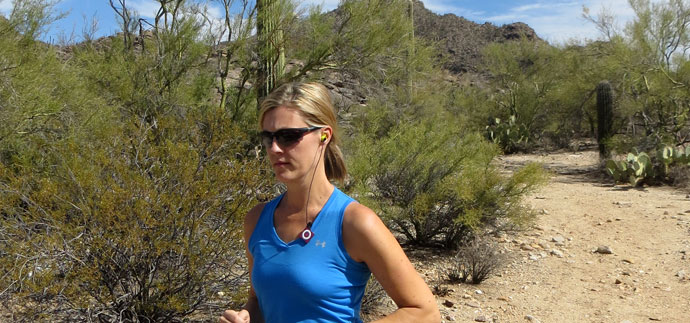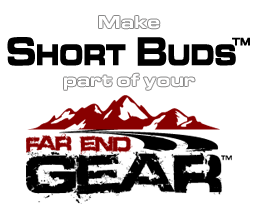 Add Short Buds™ to your workout gear and safely listen to music without the hassle of extra cord.
Short Buds
™

— Short Cord Earbuds (In-Ear)

Looking for earbuds with a shorter cord? Short Buds™ now come in 2 lengths. 15" cords are perfect for use with clip-on style music players, allowing for easy attachment to collars, hats, jerseys, helmets, and sports bras. 22" cords are perfect to use with armband cell phone holders and mp3 players.
Available Styles:
Delivering exceptional sound quality to one ear, Short Buds™ Armband Stereo-to-mono Single Earphones are specifically designed for use with cell phone or mp3 player armbands, eliminating the tangling and catching that comes with having extra cord. Perfect for running, cycling, hiking, or while working out at the gym. Compatible with most mobile phones that accept a 4 conductor 3.5mm plug. Our in-ear style earbud features soft rubber eartips of varying sizes for a secure, comfortable, near-customized fit. Technical Specifications: 22 inch long cord - Weighs in at 0.3 ounces (8 grams) Gold-Plated Stereo 3.5mm plug (same as 1/8-inch size plug) Includes 3 sizes of rubber ear tips, to find your best fit Works with most stereo or mono devices Compatible with the iPhone 3/4/5/6/7, Blackberry, DROID, Palm, Samsung S5/6/7, Android, HTC, LG, Motorola, and other mobile phones that accept a 4 conductor 3.5mm plug, with microphone/button enabled features Also works with audio devices such as Apple iPods, Sony MP3 Players, Laptops and Desktop Computers, as well as Sansa, Creative, Etek, Ativa, RCA and other low-cost MP3 players Circuitry mixes both stereo channels (left and right) together into one earphone