BudLoks Earphone Sport Grips for Apple - 3 Sets - Single Size
Available Items:
BudLoks for Apple iPod and EarPods - 3 SETS - SINGLE SIZE
BudLoks are now available in single-size sets. If you know your correct size, simply choose your favorite color in small, medium, or large. Perfect if you want to use BudLoks on all of your earbuds.
BudLoks Earphone Sport Grips are a perfect addition to your Apple iPhone 3/4/5/6 Earphones or Amazon Fire earbuds. Soft, silicone wings gently lock into the bowl of the wearer's ears, comfortably locking them in place during general activity or vigorous exercise.
*Earphones sold separately.
Technical Specifications:
Comes with 3 sets of 1 size (6 individual BudLoks).
Easy to use.
Installs around the body of earbuds produced by many manufacturers.
Soft, silicone wings gently lock into the bowl of the wearer's ear.
Comfortably locks earbuds in place during general activity or vigorous exercise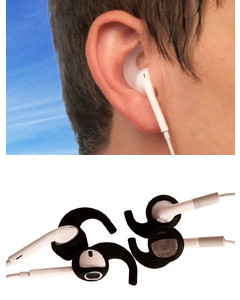 BudLoks Earphone Sport Grips for Apple - 3 Sets - Single Size
$10.95