Brite Buds
™

— Reflective Cord Earbuds (In-Ear) Introducing the world's first line of reflective-cord earphones, designed for nighttime use.

Developed with the nocturnal athlete and outdoorsman in mind, Brite Buds™ Reflective Cord Earbuds employ the same inter-locking plaiting process used in high-grade parachute cord. Weaving water-resistant fibers with glass bead retro-reflective threading has resulted in the creation of the first line of reflective earphones specifically designed for strength and increased visibility during nighttime activity.

While our Brite Buds™ line has been discontinued, the Brite Buds™ reflective technology is still available in our Fabric-wrapped XDU Single earphone.
Available Styles:
Single Earbud
Designed for wear in either the left or right ear, our in-ear style earbud features soft rubber eartips of varying sizes for a comfortable, secure, near-customized fit. Now featuring Brite Buds™ reflective technology, our innovative, fabric-wrapped cord enhances your visibility at night.
Technical Specifications:
45 Degree Gold-Plated Stereo 3.5mm plug (same as 1/8-inch size plug)
Includes 3 sizes of rubber ear tips, to find your best fit
Compatible with Apple iPods, Apple iPhone, Sony MP3 Players, Laptops and Desktop Computers, as well as Sansa, Creative, Etek, Ativa, RCA and other low-cost MP3 players
Works with any device that accepts a stereo or mono 1/8-inch (1/8") or 3.5mm plug
Weighs in at 0.3 ounces (8 grams)
Stereo plug's circuitry mixes both stereo channels (left and right) together into one earphone
42 inch long fabric-wrapped cord
XDU: From the Latin "ex duo unum" which means "from two, one".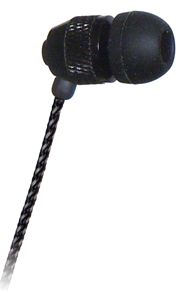 XDU Noise Isolating Earbud (In-Ear) with Fabric-wrapped Cord
$19.95