Far End Gear Sticker Pack
Other stuff we have for sale.
Available Items:
Our stickers have a semi-permanent adhesive that is safe to put on everything, including carbon fiber bikes, helmets, and windows. Easy to remove when you need to.
3 Sheets, each with assorted sized stickers
Please cover shipping.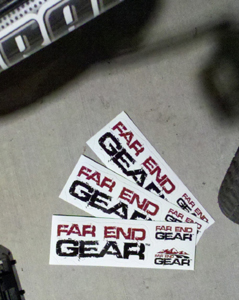 Far End Gear Sticker Pack
$0.01

Far End Gear is pleased to offer the following t-shirt lines:
May Use Full Lane™ T-Shirts
"Bikes May Use Full Lane." Obvious message, right? Think again.
If more of these signs were posted, maybe you wouldn't need to do it yourself. Until then, express your right to the road and help common sense become more common.
Made from 100% pre-shrunk cotton. Available with either "Roadie" or "Mountain Biker" image.
Click an image for more details