Far End Gear Sticker Pack
Other stuff we have for sale.
Available Items:
Our stickers have a semi-permanent adhesive that is safe to put on everything, including carbon fiber bikes, helmets, and windows. Easy to remove when you need to.
3 Sheets, each with assorted sized stickers
Please cover shipping.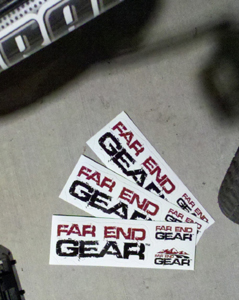 Far End Gear Sticker Pack
$0.01

OnTheRocks™ Beverage Coolers
Far End Gear's
OnTheRocks™ insulators and reusable ice packs
keep your beverages cool.