Brendan Lyons set off on a bike ride with his girlfriend, Lorena, on the morning of her birthday —October 4, 2013. The ride was no different than any other the couple had done; pedaling along the scenic foothills of Tucson Arizona's Catalina Mountains. All the while staying within the confines of some of the widest dedicated bike lanes Tucson has to offer. However, their "ordinary" October 4th ride would turn out to be anything but.
Brendan recalls waking in a hospital bed days later, connected to wires, tubes, and suffering excruciating pain throughout every inch of his body. Unable to remember the 'incident', Brendan had to be reminded several times of what transpired, the severity of his injuries and that he had sustained a traumatic brain injury.
From the jarring viewpoint of a hospital bed, looking at the pile of broken bike pieces laying nearby, the question loomed as to what his future would be, and if he would return to his career as a firefighter… or even ride again.
Brendan relies on the accounts of eyewitnesses and his girlfriend to act as his memory of that fateful day. The official police report claims that a vehicle, traveling at 45 mph, struck him and Lorena from behind while they pedaled in the bike lane. Luckily, Lorena's injuries weren't life threatening, but she did require surgery for a fractured wrist. Brendan however, having narrowly escaped being killed, would require an extensive stay in the hospital, only to be released with months of continued treatment and therapy that still continues to this day.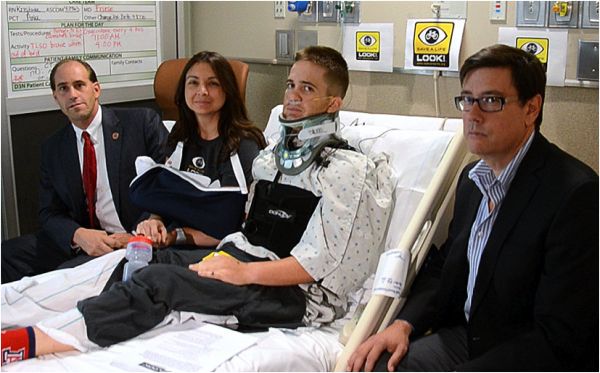 Brendan and Lorena meeting with Arizona Lawmakers: State Rep. Ethan Orr and State Sen. Steve Farley to discuss safety legislaton.
In a sad twist of irony, Brendan is no stranger to cyclists' rights. He's the founder of Look! Save a Life / Arizona, a campaign to promote the safety and awareness of cyclists. Up until the time of his collision, Brendan—also a firefighter—worked tirelessly to promote education and awareness for both cyclists and motorists. His work continues today, albeit now with a different perspective. Nearly a year later, he is still recovering from that ill-fated day.
What You Should Know
Sadly, Brendan's story is just one of many. According to The Pedestrian and Bicycle Information Center, 726 bicyclists were killed in crashes with motor vehicles in 2012. "More cyclists means more incidents," said Brendan via a phone interview.
Why the term 'incidents?' "I would like people to refrain from using the word accident," Brendan said. "An accident is defined as something unfortunate, which cannot be avoided. A collision, on the other hand is the result of choices made and risks disregarded."
The vast majority of collisions between cyclists and motorists happen because of driver inattention — texting and cell phone use being deadly contributors.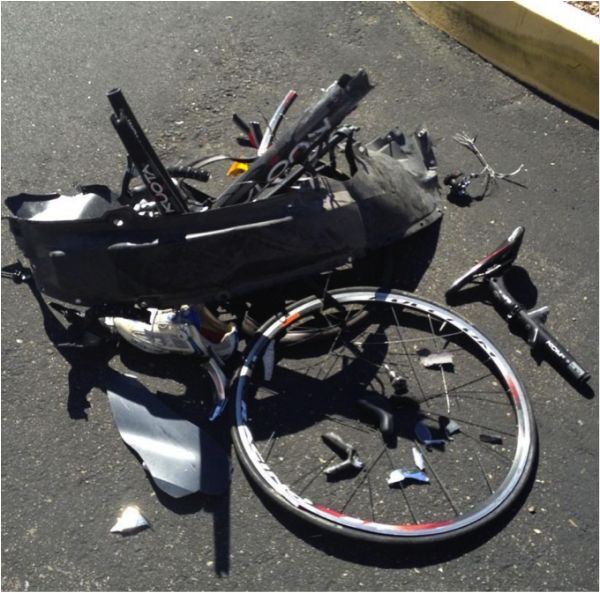 Originally scattered across the road, Brendan's bike and debris sits in a pile.
Another contributor is a simple lack of understanding. Many motorists either aren't aware or don't understand laws that protect cyclists. In Arizona for example, many are unaware that motorists must give cyclists 3 feet of space, or that cyclists are permitted to ride 2 abreast. In addition, drivers must pass at a safe distance, yield to cyclists when turning right / left, entering the road from a side street, and wait for cyclists to clear the intersection before making a right turn.
Brendan's hope has always been to work with communities to help educate, raise awareness, and create both a national and global dialogue. Especially when it comes to the design and construction of safer infrastructure for cyclists. "Until that day comes," he says, "we will continue to see these collisions rise throughout the country."
How Cyclists Can Help Protect Themselves
Brendan cautions that cyclists can never be too careful. "We're vulnerable to the law of physics," he said. In addition to always wearing a helmet (Brendan contributes being alive today because of his). He also urges the following:
Make eye contact with every driver at intersections or in parking lots.
Always carry identification and a medic alert bracelet (if you have one)
Use proper hand signals
Always check your tire pressure and brakes before setting out

Speaker of the Arizona House of Representatives Andy Tobin, Brendan Lyons and Rep. Ethan Orr, Tuscon
What Can You Do to Raise Awareness?
Brendan's story caught the attention of 2 Arizona legislators immediately after the collision. Rep. Ethan Orr, R-Tucson, and state Sen. Steve Farley, D-Tucson, both cyclists themselves, have been committed to working on bills to improve the safety of cyclists.
Brendan believes awareness is key for everyone. He says, "Through awareness, injuries can be avoided, suffering alleviated, and lives will be saved." He encourages others to get involved at a community level. Understand the rules of the road, and open a respectful dialogue.
Far End Gear is a steadfast supporter of cyclists' rights and hopes that sharing Brendan's story will help raise awareness. For more information, go to looksavealife.com or visit their Facebook page: LOOK! Save a Life / Arizona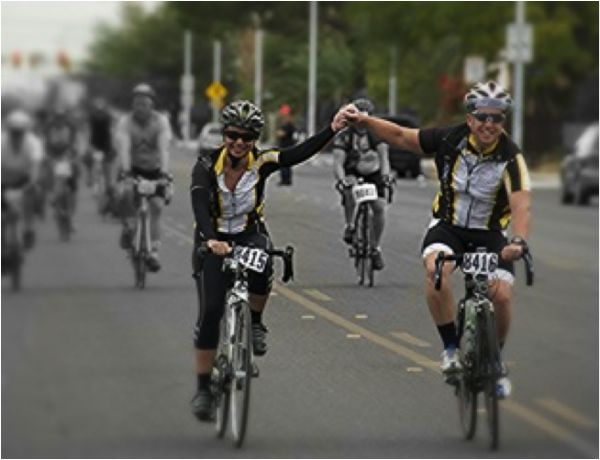 Brendan & Lorena crossing the finish line, 10 months before the collision.
** Help support "Ride to Save Lives" benefiting LOOK! Save a Life/ ARIZONA during the 32nd annual El Tour de Tucson on Nov 22, 2014. Register Today  or visit our Facebook Event Page**
Photo credits to Damion Alexander.