Turn your favorite earbuds into the ultimate sports earphones with BudLoks™ - Earphone Sport Grips
Featured:
BudLoks - Clear
Developed by an avid runner and cyclist, BudLoks Earphone Sport Grips are a perfect addition to your favorite earbuds. Soft, silicone wings gently lock into the bowl of the wearer's ears, comfortably locking them in place during general activity or vigorous exercise.
Try them with iPod-style earbuds or your favorite in-ear earbuds from Coby, SkunkJuice, JLab, GOgroove, Skullcandy, Beats by Dr. Dre, Monster, Klipsch, JVC, Thinksound, Sony, Sennheiser, Shure, Philips, and Far End Gear to keep them from falling out.
*Earphones sold separately.
Technical Specifications:
Comes with 3 sizes for a near-custom fit.
Easy to use.
Installs around the body of earbuds produced by many manufacturers.
Weighs in at 0.5 ounces
Soft, silicone wings gently lock into the bowl of the wearer's ear.
Comfortably locks earbuds in place during general activity or vigorous exercise
BudLoks Earphone Sport Grips - Clear
$14.95
Available Styles:
BudLoks Earphone Sport Grips - Clear
$14.95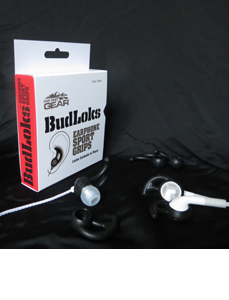 BudLoks Earphone Sport Grips - Black
$14.95
BudLoks - Clear Developed by an avid runner and cyclist, BudLoks Earphone Sport Grips are a perfect addition to your favorite earbuds. Soft, silicone wings gently lock into the bowl of the wearer's ears, comfortably locking them in place during general activity or vigorous exercise. Try them with iPod-style earbuds or your favorite in-ear earbuds from Coby, SkunkJuice, JLab, GOgroove, Skullcandy, Beats by Dr. Dre, Monster, Klipsch, JVC, Thinksound, Sony, Sennheiser, Shure, Philips, and Far End Gear to keep them from falling out.*Earphones sold separately. Technical Specifications: Comes with 3 sizes for a near-custom fit. Easy to use. Installs around the body of earbuds produced by many manufacturers. Weighs in at 0.5 ounces Soft, silicone wings gently lock into the bowl of the wearer's ear. Comfortably locks earbuds in place during general activity or vigorous exercise


Installation Videos for Ear-Canal Earphones

How to install BudLoks on Far End Gear Brite Buds earphones
Similar Products

How to install BudLoks on Klipsch S4 earphones
Similar Products

How to install BudLoks on LG Tone Bluetooth earphones
Similar Products

How to install BudLoks on Skullcandy INK'd earphones
Similar Products

How to install BudLoks on Sennheiser CX series earphones
Similar Products

How to install BudLoks on SOL Republic's JAX earbuds
Similar Products

How to install BudLoks on Far End Gear XDU earphones
Similar Products